Avoid boring people even more in 2020
Takeaways
5 favourite articles I wrote, 10 favourite links I sent, and 6 new additions to my reading list

15 shoutouts to friends and acquaintances building cool stuff

Reflecting on the newsletter flywheel, why I'm not like Hemingway with his cat, and introducing a paid weekly update tier
Experimenting with paid weekly subscriber updates
Starting Jan 25 I'll be experimenting with paid weekly updates, in addition to the free monthly update. I'll elaborate at the bottom of this email, and the main points are:
Pricing is $6/mth or $60/year. Early subscribers will get pricing of $5/mth or $50/year (~20% discount)

This gets you early, direct access to weekly content that will be shorter and more varied in subject

Monthly content will remain free for as long as I keep writing
If you like living life loosely and don't need to know more, here's the paid subscription button:
---
And now, here's how we avoided boring people in 2019:
Favourite articles I wrote
Of course, all my writing i̶s̶ ̶t̶h̶e̶ ̶b̶e̶s̶t̶ can keep getting better. Nevertheless, these were my favourite pieces the past year [1]:
Would you buy the Libra Neopet Kin token? In which I profess to not understanding Facebook's Libra at all

Behold the future of global finance. Not gonna lie it is kinda cute.

Can you see things in a different way? In which I realise everyone visualises things differently

Why were freelance monks banned by the church? In which I comment on why Nassim Taleb thinks employment is legal slavery

Slave ownership by companies has traditionally taken very curious forms. The best slave is someone you overpay and who knows it, terrified of losing his status
Tell me why. In which I question why we believe in anything at all

Public secrets. In which I list secrets industry insiders all know but wouldn't want to admit publicly

Rigged: News sites, universities, music competitions
Favourite links I sent
Here were the favourite links that I sent [2]:
The US trade imbalance won't be fixed by focusing on trade since it's actually a capital inflow problem [3]

Reconstructing facial images based on voice data. Note that the idea wasn't to recover an exact image, but common visual features that connected with speech attributes

Which of these lines below are from a famous poem, and which are from AI?

Moloch whose brief mind is the barrel of gleaming stars! Moloch whose soul is choices of fragrance!

Moloch! Moloch! Nightmare of Moloch! Moloch the loveless! Mental Moloch! Moloch the heavy judger of men!

Moloch for I don't believe in god! Moloch who, fought Sins and made Sin out of Sin!
New additions to my reading list
---
Shout outs
Friends and acquaintances worked hard on fascinating things last year. Please feel free to reach out if you're interested in what they do. Note that none of the below is investment advice and I might have a financial or personal interest in the company [5]
---
Now that I've advertised others, back to shameless self-promotion:
Annual reflection
I finished my annual reflection for 2019 recently, a distinct improvement compared to previous annual reflections completed in March [6]. Reflecting is necessary for learning; having a thoughtful template increases the effectiveness and decreases the difficulty in starting the process.
This year I updated my template by drawing on Steve Schlafman and Howard Gray's version, plus other references [7]. This is the template that I find helpful for myself but may not be the template most helpful for you. Feel free to adjust as needed. You can take a look at my completed reflection if helpful.
Something old, something new, this is my year in review
Newsletters are seeing a resurgence; everyone and their mom [8] seems to have one now. Byrne Hobart thinks of them as a precommitment to quality and focused content; I think of them as a pendulum swing away from broadcasted, generalised noise to opt-in, specialised content. Just as blogging exploded and then slowly declined though, I think newsletters as a whole will go through the same trend with 60% certainty, and we're still early in the up cycle.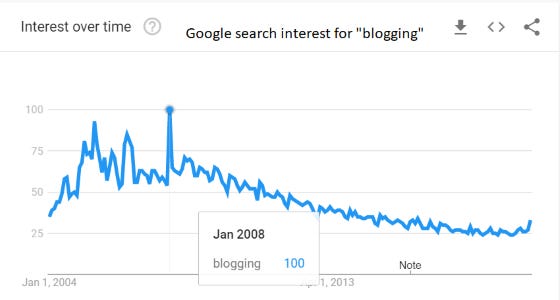 Why do I think this? The simple fact is writing is hard. I have literally stared at my screen for ten minutes thinking of what to write, ending up with this sentence [9].
People think I write like this: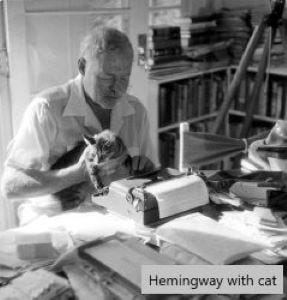 When instead I'm often like this: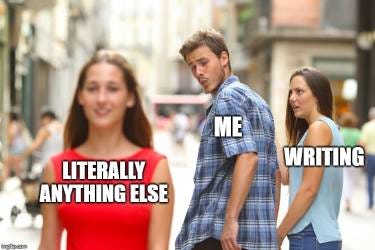 Most people writing now will give up after a while, once the difficulty outwears the novelty. The key to survival then is to just keep swimming and s̶p̶a̶m̶m̶i̶n̶g̶ creating content.
I do so by remembering why I write, which is for myself first and foremost, since "I don't know what I think until I read what I say" [10]. The readership and responses are fantastic to have, and I'll keep writing as long as I remember the primary, selfish goal. It's not you, it's me.
The annual reflection was a convenient excuse for me to think about the future for this newsletter. Like every startup out there, I think of this as a flywheel: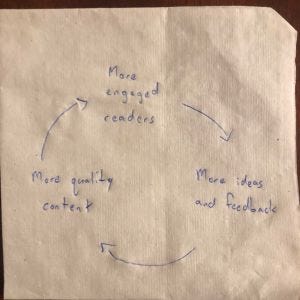 Readership has grown compared to when I was directly emailing family and friends years ago. Despite that, my open rates of ~60% are way above industry average of 20% and best in class of 40%. I need your help to keep that going, and prefer quality to quantity. To that end, please unsubscribe if you're no longer interested [11].
More engaged readers led to more ideas and feedback, a great benefit of writing publicly. You can compare an early version of this newsletter against the current to see how much has changed, much of it from reader feedback [12]. Please continue to send in ideas and feedback, and correct me if I'm wrong.
Which brings me to more quality content, and my experiment with weekly updates for paid subscribers [13]. I want to see if there's a small subset of subscribers that would be interested in getting content more often on a weekly, paid basis starting Jan 25. Details are:
Pricing is $6/mth or $60/year. Early supporters will get pricing of $5/mth or $50/year, a ~20% discount as recommended by substack. I'm intending to keep that as a lifetime pricing for early subs, but can't guarantee that substack's tech will let me do that forever [14]

Paid subscribers get early, direct access to weekly content [15]. This will be more varied than the monthly update; take a look at my prior posts such as controversies in the art world or how to take feedback better to get a better idea. They will also be shorter, less polished, and most importantly still available on my personal website after a delay. You're really paying for early access to my initial raw thoughts on whatever I've found interesting, and should only do so if you want to [16]

Monthly content will remain free for as long as I keep writing, and remain structured around tech, finance, and personal growth. I anticipate taking more time to draft these and that they will be better quality than the weekly posts
Please subscribe here if I haven't already convinced you out of doing so:
If you were an early reader, I may have given you a complimentary subscription that didn't do anything. I'll be downgrading these since I don't want to opt you in to weekly emails without consent. If you'd like to retain your status for free, send me a message. I'll do so, no questions asked, as part of my earlier promise to grandfather in early readers [17].
Thank you for all the support, and let's continue to avoid boring people in 2020.
---
Footnotes
Note that I said favourite pieces, not necessarily the best or most popular. Just as people can like Love Actually, I can like something without it being good. Pieces that missed the cutoff included my notes from an investment conference, additional marketplace business rake factors, and how likely were you to accept grandma's video game friend request?

Links that missed the cutoff included how Mr Rogers anticipated the way children might misinterpret what was being said, the O-ring theory of development describing when one weak link can destroy the entire value of production, and a thousand true fans are all you need

I elaborated on Pettis' post here

I responded to Josh in a post here

As always, nothing I write is financial advice, please consult a professional financial advisor etc. Don't sue me; I have no money

It was still helpful though! Would encourage you to do a reflection regardless of how late it is

The others included Anne-Laure Le Cunff, Kelly Thorne Gore, and Henna Inam

No, I'm not a subscriber. Just a top google search result

Yes, that really happened. I gave up and went to bed shortly after. What follows was written on a separate day

Flannery O'Connor

I've regularly reminded people to unsubscribe and you'll be doing me a favour. If I could, I'd make the unsubscribe button all the way at the top of the email, but there's technical limitations on substack. Friends and family - I really won't feel offended if you unsubscribe. Really

At one point in time I was trying to link together unrelated topics into one coherent narrative, as seen in this example. That took a lot of time but didn't seem to improve reader engagement, leading to me experimenting with the separate sections. Takeaways and banners were both suggestions; the post on AI and the Taleb article were sent by friends

The keyword here being experiment, which means there's a chance this blows up in my face. I believe in more experimentation in my personal life

I would charge lower, but $5/mth is the minimum allowed on substack. Substack charges 10% plus ~3% for credit card fees

When I started out, I thought I might charge for the monthly updates and give the weeklies for free. However, it makes more sense to ask more engaged readers to pay instead

I'm doing a terrible job of selling this aren't I. However, I believe that this is worth trying out and only want paid readers that really want it. I'm still maintaining the personal website, as it has functionality that substack doesn't and I want to keep something entirely of my own

Honour system here, I can't keep track of everyone who was given a complimentary subscription. Please don't be shy about it; if I were in your shoes I'd totally ask to get upgraded for free